KITCHEN CLOSURE
ONE NIGHT ONLY!
Unfortunately our kitchen will be closed on the night of Sunday 12th November, to allow for essential maintenance to take place... but don't worry WE'RE STILL OPEN FOR SUNDAY LUNCH!
We apologise for any inconvenience caused.
NEW FALL EXHIBITION
WE ARE DELIGHTED TO BE HOSTING A NEW EXHIBITION AT THE ROYAL OAK
"FALL"
BY DIANA CHARNLEY
Dians's warm and bright paintingings perfectly compliment the space in The Royal Oak.
We will be exhbiting 19 pieces until the new year and urge you to come and enjoy them in a relaxed and informal setting.
Keep your eyes out for details of a ticketed sales evening.
NEWSLETTER
HAVE YOU SEEN OUR MOST RECENT NEWSLETTER?
Follow the link to have a read... in this month:
We're winners!
The Royal Oak make The Times' top 50
New menus and service times
New art exhibition
Plus find out whether you have won this month's bottle of wine!
WE'VE BEEN FEATURED
WE'VE BEEN NAMED AS ONE OF THE TOP PLACES TO EAT IN SALISBURY
Hideaways, the holiday cottages company that rents out properties accross Wiltshire, has named The Royal Oak as one of its top places to eat in Salisbury. The company's guide on what to do and where to go in the beautiful medieval city can be found by clicking on the below image.
NAMED IN THE TOP 50 BY THE TIMES
THE TIMES HAS NAMED THE ROYAL OAK IN ITS TOP 50 AFFORDABLE HOTELS IN THE UK
The judges loved our 'chic and blissfully calm' rooms as well as the 'striking oak-framed conservatory with contemporary furniture'.
We're booking up fast for the summer, so call us to book your short break soon and ask about mid-week deals!
01747 870211
WE WON!
We're so increadibly proud to have won the Muddy Stilettos award for best destination pub in Wiltshire.
Thank you so much to all who voted for us - it means the world that you love coming here enough to take the time to vote so THANK YOU!
WE'RE OPEN FOR BREAKFAST
WE'RE DELIGHTED TO ANNOUNCE THAT WE WILL NOW BE OPEN FOR BREAKFAST
Up until now, we have only been able to provide breakfast for overnight guests, but we are very pleased that we can now extend this service to all our restaurant customers too.
Breakfast will be served between 8-10am
Call us to book:
01747 870211
WE'RE FINALISTS!
WE'VE MADE IT TO THE FINALS OF THE MUDDY STILETTOS COMPETITION FOR BEST DESTINATION PUB IN WILTSHIRE
Thank you so much to everyone who voted for us in the first round - we're so happy to have made it into the final!
We'd be extrememly grateful if you'd take a minute to vote for us in the final round - we'd really really love to win:
Voting will be open until midday on Friday 16th June
Thank you so much for voting for us!
FATHER'S DAY
TREAT YOUR DAD AT THE ROYAL OAK THIS FATHER'S DAY
Join us on Sunday 18th June for Father's Day at The Royal Oak and he'll get a free pint!*
Call us to book your table now as places are booking up fast.
01747 870211
*choice of alternate drinks available
NEWSLETTER
HAVE YOU SEEN OUR MOST RECENT NEWSLETTER?
Follow the link to have a read... in this month:
Bank Holiday BBQ
Pub Quiz
Spring Roundup
We've Been Nominated
Plus find out whether you have won this month's bottle of wine!
NOMINATED IN THE BEST DESTINATION PUB CATEGORY FOR WILTSHIRE.
BANK HOLIDAY BARBECUE
WE WILL BE CELEBRATING THE START OF THE SUMMER WITH AN ALL DAY BARBECUE ON MONDAY 29th MAY
Join us for a day of delicious food, drink and fun in the garden. Food will be served from 12pm.
01747 870211
BBQ SERVED 12-6PM
Regular à la carte menu will be available between
12-2.30pm and 6-9pm.
THE WHITE HORSE MORRIS RETURN TO THE ROYAL OAK
WE ARE DELIGHTED TO WELCOME BACK THE WHITE HORSE MORRIS DANCERS ON WEDNESDAY 17TH MAY!
The dancing will kick off at 8pm so come down and enjoy a fun evening of drinks, food and fantastic traditional dancing.
Please book early for this popular event
01747 870211
THE WHITE HORSE MORRIS 2016
ROYAL OAK
QUIZ
NIGHTS
PLEASE BE AWARE THAT THE NEXT QUIZ WILL BE ON MONDAY 8th MAY AS THE 1st IS A BANK HOLIDAY, THANK YOU!
Teams up to six, 7.30pm start. Everyone welcome!
Please book early for this popular event
01747 870211
GET YOUR THINKING CAPS ON...
COME AND SAMPLE DANNY DU ROSE'S NEW DELICIOUS MENUS
Carl, Danny & Joe look forward to seeing you all in the New Year and we will keep you all up to date with news of our former Chef Patron, Mark Treasure's exciting new venture.
WELL DONE TEAM
WE HAVE JUST WON THE
GOOD HOTEL GUIDE
CESAR AWARD FOR BEST NEWCOMER
2017
AND THERE'S MORE ...
WE HAVE HAD WONDERFUL REVIEWS FROM THE SUNDAY TIMES, THE MAIL ON SATURDAY, WILTSHIRE LIFE AND COUNTRY CHILD.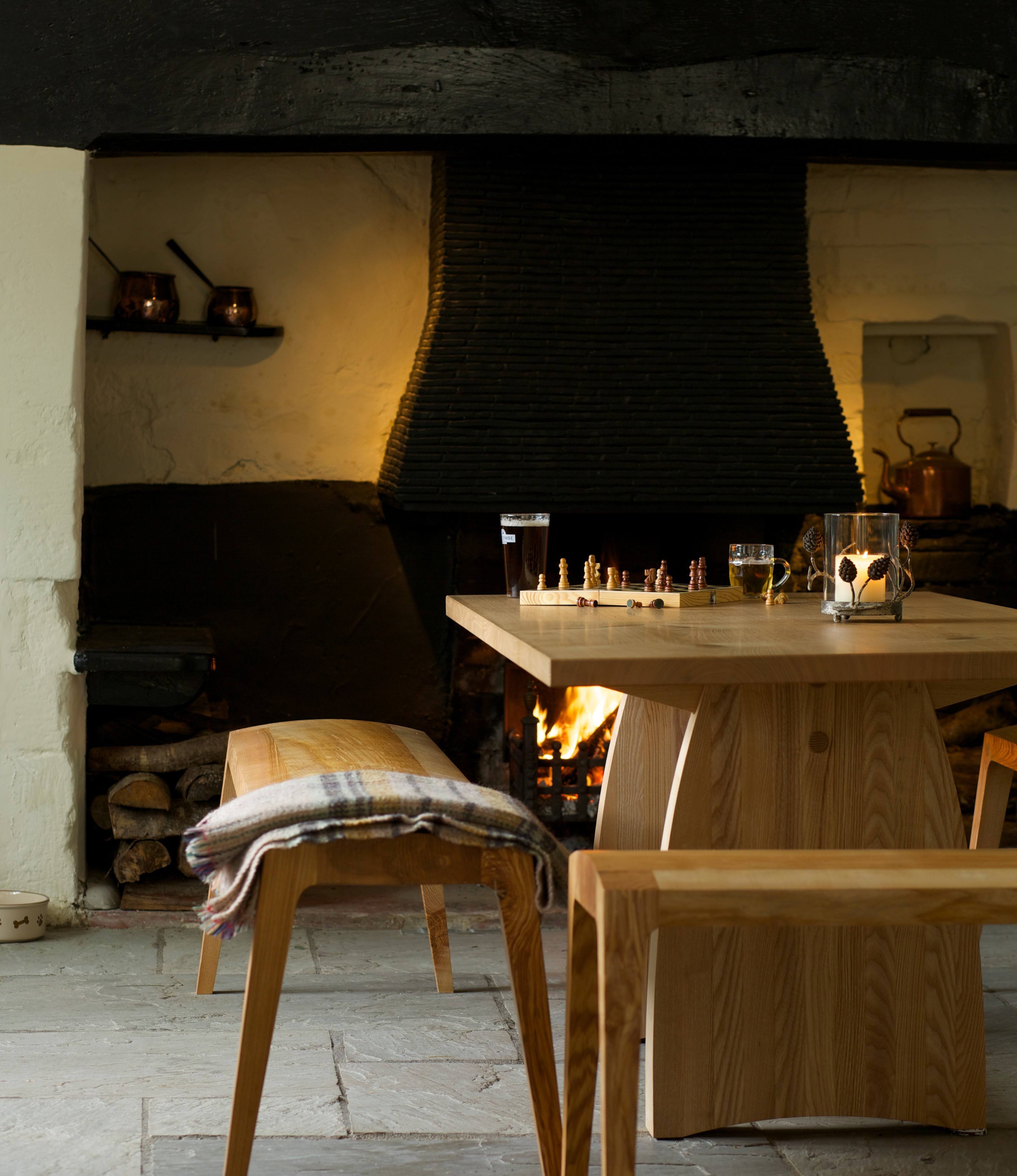 "YIPPPEEEEEE"
DAILY LUNCH TIME OFFER
1 - COURSE SPECIAL WITH
A GLASS OF WINE
THE FORMER TANNERY HAS BEEN
AN INN SINCE 1852
FAMOUS FIVE RIVERS AND HISTORICAL ESTATES
OUR INSPIRATION...use this link to find out more
FRIDAY NIGHT
EARLY EVENING FISH AND CHIP SUPPERS ARE THE BEST WAY TO START THE WEEKEND
6.30 -7.30 PM
A fantastic fun informative website especially written for our area.
Jammed pack full of great things to do and places to go...
THANK YOU for visiting the Royal Oak and for our brilliant write up.
http://www.countrycalling.co.uk/
WOODEN FURNITURE
Beautiful to look at and comfortable to sit on, come and have a look at our gorgeous designer furniture... inside and outside
ART AT THE OAK
THIS MONTH WE ARE FEATURING WORK FROM LOCAL ARTIST SELINA SNOW
http://www.selinasnow.com/visualfeast.html
WE HAVE REGULAR GUEST ARTISTS AND WE ARE VERY PROUD TO SUPPORT OUR LOCAL CREATIVE COMMUNITY.
PLEASE GET IN TOUCH
WITH ALISON GALT
01747 870211
IF YOU WOULD LIKE TO EXHIBIT AT THE ROYAL OAK.
NADDER VALLEY WALKS
This is the perfect time of the year to put on YOUR WOOLY HATS and go for a country walk.
We have 6 specially commissioned walks all printed up and ready for you to borrow
We also have copies of the very popular booklet - Nadder Valley Walks for sale at the bar.
OUR LOCAL TOURIST BOARDS IN NEIGHBOURING SHAFTESBURY AND SALISBURY ARE ALWAYS SUPER HELPFUL TOO...
http://www.shaftesburytourism.co.uk/whats_on_cal.htm
http://www.visitwiltshire.co.uk/salisbury/whats-on
TELL US YOUR NEWS .... WHAT'S ON NEARBY AND WE WILL TELL OUR CUSTOMERS
email :